Six Flags Over Georgia —the Thrill Capital of the South — is thrilled to announce the return of Atlanta's scariest Halloween event, Fright Fest, happening select dates, September 16 through October 29. This year, Fright Fest boasts 16 terrifying haunted attractions, including haunted houses, scare zones and live shows, plus exhilarating nighttime rides on the park's famous thrill rides and coasters.
"Six Flags Over Georgia offers one of the largest Halloween events in the southeast, and this year we've elevated the fear and excitement to our highest level ever," said Park President, David Zellner. "Our incredible line up of not only frightening experiences, but also family-friendly entertainment, will incorporate state-of-the-art makeup, props, and special effects, elevating the guest experience throughout the fall."
Fright Fest, presented by Snickers® promises to be scarier than ever before, with enhanced spooky decorations, three daunting new haunted houses, three frightening new scare zones, two new live shows and the return of guest-favorite haunts and attractions. New highlights from this year's Fright Fest lineup include:
SAW X Maze: Do you want to play a game? Experience the return of Jigsaw as you attempt to survive his ingenious and terrifying traps in the untold chapter of his most personal game yet, inspired by the upcoming release from Lionsgate and Twisted Pictures, SAW X. Coming mid-October;
Nyctophobia: Are you afraid of the dark? One way in, one way out. Try not to get lost in the labyrinth of darkness of this new haunted attraction, located in the ScreamPunk District;
Aesthetic: You're going to like the way you look in this new haunted house. Located near Goliath;
Freak Show: Clowns, clowns, and more clowns and guests are dying to have a good time! The sequel to its predecessor, Carnival of Chaos, this enhanced scare zone features state-of-the-art special effects. Enter if you Dare;
Reaper's Curse: The Necromancer Morgana has cast a spell to the whole land unleashing dead warriors from various realms. This scare zone will leave guests screaming to get out. Located near Monster Mansion;
Roswell, GA: All information is classified for unauthorized personnel in this new scare zone. Located in USA;
The Transylvanian Orchestra: Prepare to be spellbound by an unforgettable rock show featuring a live band, haunting performances, spine-tingling dance choreography and heart-pounding Halloween themed music; and
The Uprising: There is nowhere to hide when this legion of monsters is unleashed to reign down terror in the streets!
Fan-favorite returning haunted houses include:
Carnival of Chaos: Where guests are dying to have a good time; and
Serial Neighbor: Things seem a bit strange next door. Only certain guests are brave enough to go check it out.
Additional scare zones throughout the park include:
Cannibal Cookout: Guests can learn the secret to a special barbeque recipe. Need a hint? It's all about the meat;
Insectuous: An illicit lab has spawned interbred insects that makes skin crawl; and
Trolls: Dare to enter the Trolls bridges. Danger lies around every corner.
Additional live shows and Halloween themed attractions include:
Dr. Fright's Dead Man's Party: Guests are once again invited to Dr. Fright's annual Dead Man's Party, a bash for zombies to scare the living daylights out of mortals with drop dead performances of classic Halloween hits;
Bad Bob the Bone Butcher: Deputy Leon P. Jones is in charge of the rotten coffin of Bad Bob. It's Old West slapstick slaughter when Bad Bob comes back to life and has a bone to pick with Jones; and;
Disco Train: All aboard the Six Flags Railroad! Celebrate Halloween with an energetic train ride through some of disco's most monstrous hits.
Kids Boo Fest at Six Flags Over Georgia offers the perfect day-time thrills for little monsters to enjoy family-friendly fun with a Trick-or-Treat trail, pumpkin decorating, spooktacular storytelling, Halloween-themed games, and the park's kid-friendly rides. All Kids Boo Fest activities will take in the right half of the park from, Twisted Cyclone to JB's Sports Bar & Grille, and will be kept separate from the scarier Fright Fest offerings. New spooktacular Kids Boo Fest thrills, include:
BOOtiful Manor: BOO welcomes you and your family to take a tour around his mansion;
Enchanted Arbor: Where the witches brew;
Camp Boo!: Adventures await for little ghouls and goblins! Enjoy all of the fun fall festivities Camp BOO! has to offer — with a few special thrills and twists of our own; and
Monster Mansion Meet & Greet: Meet some characters inspired by our Monster Mansion animatronics.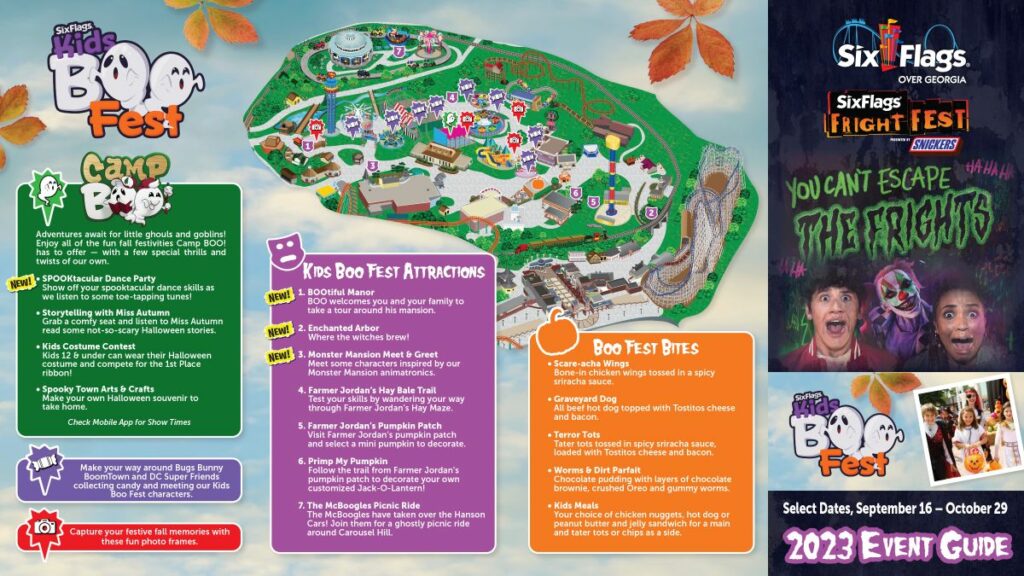 Take advantage of the Kids Boo Fest Ticket Bundle which includes a FREE child ticket. Child must be 42" and under and tickets must be scanned before 4:00 p.m. Offer available online only.
Oktoberfest, happening select dates, September 16 through October 29, gives guests the chance to savor a unique menu of seasonal brews and German inspired cuisine. Notable menu items offered during the festival include, honey mustard chicken skewers, cheddar pierogis, German potato salad, stuffed pretzels, caramel apple bars and more. For the full Oktoberfest experience, guests can purchase a Tasting Pass, valid on up to six festival food items, now at www.sixflags.com/overgeorgia.
Fright Fest® at Six Flags Over Georgia is open select nights, September 16 through October 29. For more information on Fright Fest Kids Boo Fest and Oktoberfest, including tickets and haunted attractions pass details, visit www.sixflags.com/overgeorgia.
Season Passes on Sale Now: Purchase a 2024 Season Pass to enjoy the new 2024 experiences PLUS admission throughout the remainder of 2023 including access to the highly popular Six Flags Fright Fest and Holiday in the Park. The Platinum Pass includes FREE parking and unlimited access to Six Flags Over Georgia and Hurricane Harbor, Six Flags White Water and more! Special pricing is now available for Season Passes and One-Day tickets. For more information, visit www.sixflags.com/overgeorgia.
Fright Fest® Hiring: Named one of the Nation's Best and Brightest Companies to Work For®, Six Flags offers a wide variety of positions from entry level to management opportunities. Job perks for Six Flags Over Georgia team members include advancement opportunities, reward and recognition programs, educational scholarships, paid training, free park admission, exclusive team member events and special incentives from area businesses. For more information and to apply online, visit sixflagsjobs.com.