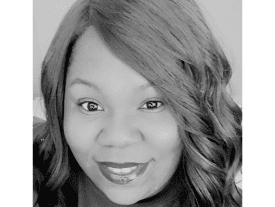 Where are you from originally and how long have you lived in the South Atlanta Metropolitan area? 
Stephanie: I was born here in Atlanta, GA but I was raised in Thomaston, GA. After becoming a mom, I moved to Cobb County for ten years and when I got married we moved here to the South Atlanta Metropolitan area.
How many children do you have and how old are they?
Stephanie: I have one daughter who recently turned Sweet 16.
What's your favorite thing about raising a family in the South Atlanta Metropolitan area?
Stephanie: Our school system. I love being a Clayton County Public Schools parent and the education that my daughter is receiving is top notch. I highly recommend their
fine arts magnet program
.
Least favorite mom job?
Stephanie: Laundry.
Best mom hack/mom tip that makes life easier?
We're big on self-care for moms, as hard as it is to find the time, what's something you do just or yourself?
Stephanie: To be honest, this is an area that I really need to focus on because I do not always. I am, however, changing that this year. I have done a good job making sure that I do not work on Sundays not even for a few minutes. I am open for suggestions. What do you do for self care?
One thing people would be surprised to know about you…
Stephanie: I am an only child who is married to an only child and we only have one child. So you can image the fun that takes place in our home of only children. There should definitely be a camera here filming us.
What is the name of your business/organization?
Stephanie: Smith Consulting Agency, LLC and South Atlanta Moms
Tell me more about your business/organization and what you do.
Stephanie: I am the founder of Smith Consulting Agency, a company that offers outsourced operations including Digital Marketing, Local Marketing, Relationship Marketing, and Administration for small business owners.
I am also the founder and editor of South Atlanta Moms, part of The Local Moms Network. In my previous role as a local publisher I helped thousands of families find their family fun and I connected local businesses to local families. Over the the past four, almost five years, I have connected with so many local moms and us moms have to stick together because motherhood is not easy. Last fall I decided that I wanted to solely focus on moms and find ways to save us all the one thing we do not have enough of…time. That was when I found out about The Local Mom Network and here I am.
When did you launch your business and what was the inspiration behind it?
Stephanie: I launched Smith Consulting Agency February 2021. The inspiration behind it was I saw that there was a need for small businesses to pivot to online marketing and many small business owners had no idea where to start. Many knew that they needed to have an online presence but did not have the resources to do so. We help small business owners and entrepreneurs get gain an online presence within minutes and our team of marketing virtual assistants will manage their presence online while they run their business.
What's your favorite thing about what you do?
Stephanie: With both businesses I get to support small business owners and entrepreneurs. I love helping a small business owner "think outside of the box" and find creative ways to keep the lights on the doors open. I also love the opportunity to further build my amazing network of moms. It is said that it takes a village to raise a child. I agree and it is for that reason that I will continue to build and support our village. Not a part of our village? Click
here
to sign up right now.
Who has most influenced you to be the mom you are today?
Stephanie: My mom, Paltry Thomas Hines, who is now resting. She showed me unconditional love, she was present, and saw her provide a village for other moms. She was no stranger to helping others so I get it honestly. I love people. And I especially love mamas.
When parenting gets hard, what's something you tell yourself that gets you through?
Stephanie: First I pray. It is through prayer and reading the Bible that I gain encouragement to keep going. Then I remind myself that I am not perfect. My daughter is not perfect. My husband is not perfect. The only perfect person is my Lord and Savior Jesus Christ. If not, I would totally lose my mind up in here, up in here.
Best advice for moms who experience the inevitable and dreaded MOM GUILT? 
Stephanie: Redirect that energy to somewhere else because you are a good mom and your kids love you. Even when they do not like you, they still love you. If you need a little more encouragement, reach out to me via
Instagram
and I gotcha.
How do you balance being a business owner and a mom?
Stephanie: I am still working on this area of my life. The struggle is real and I could not function without Trello.
What can we do to support you in the community?
Stephanie: Tell your friends and family about signing up for our hyper-local newsletter by clicking
here
 and connect me on social media.
Follow me on social media: