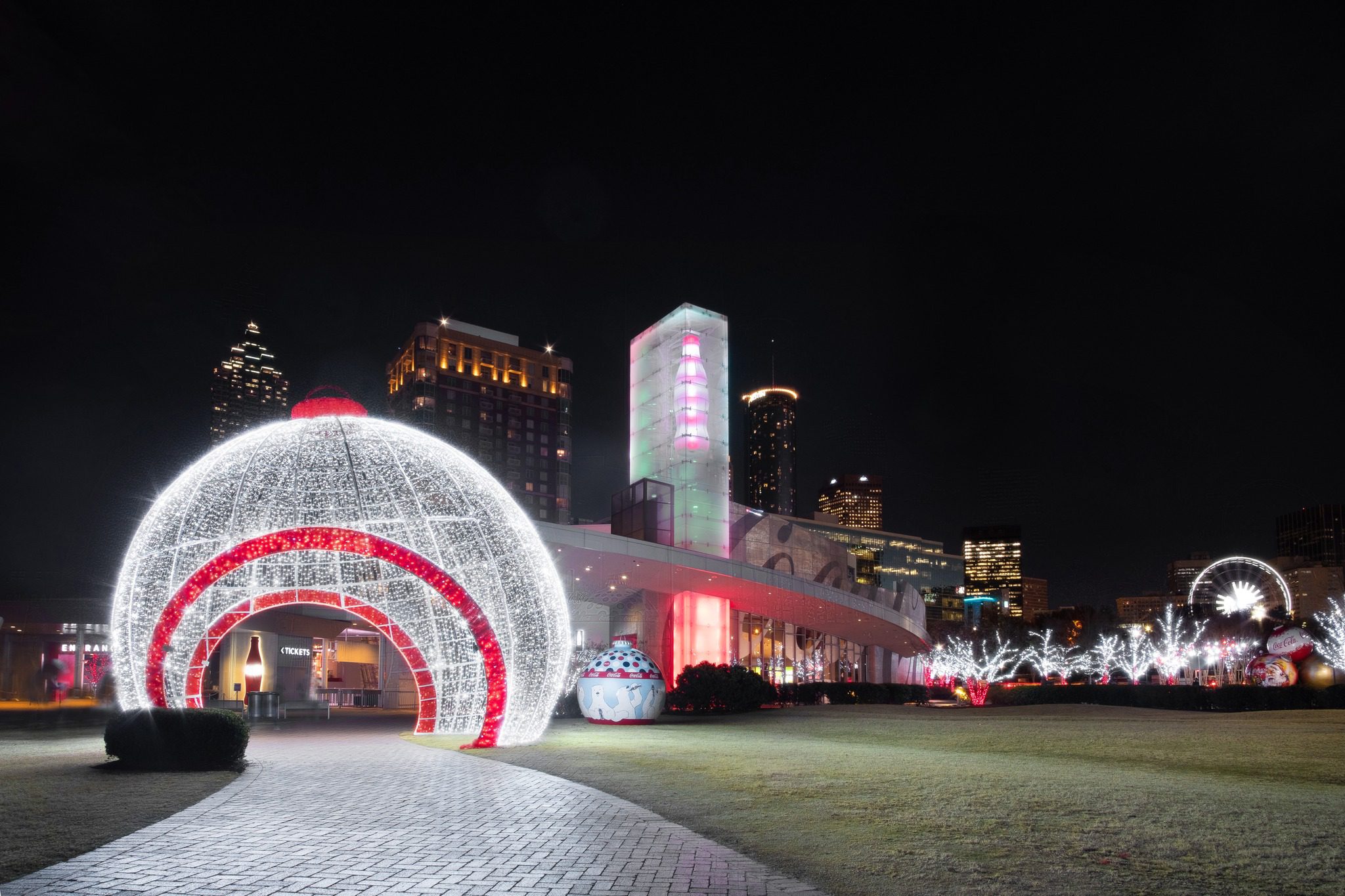 The holidays are officially upon us, and today, the World of Coca-Cola is kicking off the season by announcing the launch of its annual holiday celebration. Now through early 2023, the Atlanta attraction invites friends and families to experience holiday magic and make memories to last a lifetime with larger-than-life decorations, festive family photo opportunities, seasonal beverages, and more. In addition, the iconic Coca-Cola Caravan will visit the World of Coca-Cola on Dec. 10 to spread holiday joy over shared experiences and moments of magic.
"Each year, we look forward to bringing people together to make memories and celebrate the holidays with us," said Christophe Lair, Senior Director of Retail Operations and Administration. "Coca-Cola has been a part of seasonal celebrations around the world for generations, and World of Coca-Cola has become a must-visit destination and annual tradition for Atlantans and visitors alike looking to experience the magic of the holiday season."
To make the most of every magic moment, don't miss these five festive experiences, including:
Get an Insta-worthy photo with the Coca-Cola Caravan: Since lighting up the small screen in a TV ad that first aired in the mid-1990s, the Coca-Cola Caravan has signaled the start of the festive season for nearly three decades. On Dec. 10 from 11 a.m.-5 p.m., the Caravan will park outside World of Coke for a fun-filled day of holiday celebrations. Atlanta Mayor Andre Dickens and former Atlanta Falcons football players DJ Shockley and Harry Douglas will welcome attendees, and guests will enjoy photo ops, festive games, and more.
Enjoy Holiday Décor Galore: Throughout World of Coca-Cola and outside on the green, guests are surrounded by trees aglow with thousands of twinkling lights and giant decorative ornaments, setting the scene for guests to take and share photos of their time together. Inside, enormous Coca-Cola bottles deck the halls, and merry tunes keep spirits bright and festive surprises are around every corner. A special exhibit, "Coca-Cola Christmas around the World," features historic, holiday-themed Coca-Cola artifacts that celebrate the season.
Sip Exclusive Seasonal Samplings: Year-round, the Taste It! beverage experience features selections from different countries around the world, but during the holiday season, it also includes curated seasonal samplings. This year, the exhibit offers custom limited-time Freestyle mixes such as Coca-Cola Vanilla Swirl, Coke Zero Vanilla Swirl, and Sprite Vanilla Frost, among others. QR codes are placed throughout the exhibit to share fun facts and details about the origin of each beverage.
Make Memories with Sundblom Santa Claus: Inside the Pop Culture Gallery, visitors are invited to explore the history of the Sundblom Santa Claus through a collection of paintings on permanent display. They may also take part in the festive "My Coke Story" activation that celebrates joy, laughter, and memories that come with the holiday season. Select stories will be displayed at the attraction for visitors to read and enjoy.
Stock Up on Stocking Stuffers: Before leaving the World of Coca-Cola, guests can take a memento of their visit home with them. The Coca-Cola Store offers a variety of apparel, accessories, and commemorative items sure to make ideal holiday gifts and stocking stuffers for family and friends. For those who prefer to shop from the comfort of home, CokeStore.com offers even more holiday goodies.